10 Most Affordable Hunter x Hunter Figures
Starting a figure collection from your favorite anime series does not have to be expensive. There are plenty of affordable figures from companies you love like Banpresto, FREEing, Good Smile, and much more.
This article discusses the ten most affordable Hunter x Hunter figures that can be purchased for under $150. They are affordable, great-looking, and realistic!
Hunter x Hunter Funko Pop
Average Price: $20 each
Funko Pop! figures are the most common and affordable way to purchase Hunter x Hunter figures. At under $20 each, prices are consistent across the board for most characters in the series.
Each Hunter x Hunter pop figure features the characters' unique NEN ability, such as Killua's Godspeed lightning bolts or Hisoka's bungee gum. Funko figures are great for starting a collection because of their affordability. Keep in mind that special edition figures, like Alluka Zoldyck (Hot Topic Exclusive) or Illumi Zoldyck (LACC Exclusive) are harder to find and therefore more expensive than other Hunter x Hunter Funko pops.
Popular Hunter x Hunter Funko Pop figures include:
Killua Zoldyck
Gon Freecss
Kurapika
Leorio
Hisoka Morow
Alluka Zoldyck
Illumi Zoldyck (Coming Soon)
Chrollo Lucilfer (Coming Soon)
Hunter x Hunter Nendoroid
Average Price: $35-$50 each
The FREEing Nendoroid brand produces adorable chibi figures that every Hunter x Hunter fan should add to their collection. These small action figures are slightly more expensive than Funko Pops because they are more realistic. Normally, Nendoroid figures are on the pricier side, but that's not the case for Hunter x Hunter!
The Hunter x Hunter Nendoroid figures come with several faceplates, which allow you to recreate several scenes from the series. These figures are great for displaying on your shelf, but their world-class durability also makes them great for playing!
FREEing produces several Hunter x Hunter characters. These include:
Gon Freecss Nendoroid
Chrollo Lucilfer Nendoroid
Killua Zoldyck Nendoroid
Kurapika Nendoroid
Hunter x Hunter DesQ Miniature Figures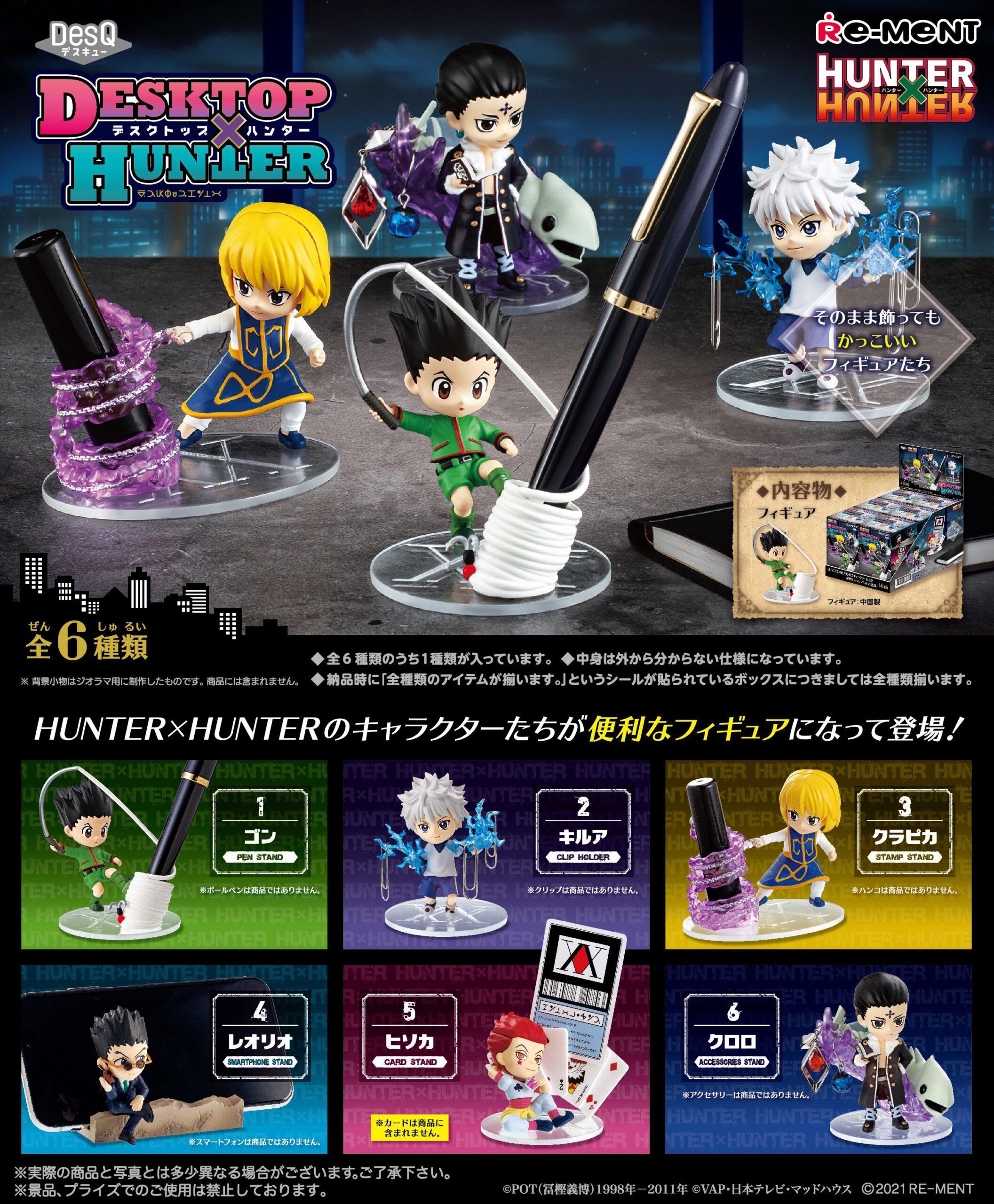 Average Price: $35-$40 per set
Not all figures are large. Miniature figures can make a major difference, too. Consider the miniature desktop Hunter x Hunter figures by DesQ. They look like your favorite Hunter x Hunter characters but have functionality too! Just imagine holding all your pens up with the help of Gon's fishing rod or watching a movie on your phone with the help of Leorio's briefcase!
These little desktop assistants are affordable, cute, and an iconic part of the Hunter x Hunter series. You can purchase the entire set of 6 figures for around $40.
Hunter x Hunter DesQ miniature figures include:
Hisoka Morow
Kurapika
Gon
Killua
Leorio
Chrollo
Bandai Hunter x Hunter Mini SD Figures
Average Price: $10 each
Are you looking for a small figure that you can put on your desk? Or, maybe you just want a figure for your car dashboard. Either way, the Hunter x Hunter 2019 Mini Figures from Bandai are the best choice for the smallest price.
These include:
Gon Freecss
Gon (Adult Form)
Killua Zoldyck
Kurapika
Leorio
Hisoka Morow
Hunter x Hunter Pittori Collection
Average Price: $90 per set
Corner desk figures are great for folks who want a piece of Hunter x Hunter with them during the workday. With a total of six characters, including all four main protagonists, the small Hunter x Hunter figures in the Pittori collection are the perfect collector's piece for any Hunter x Hunter fan. These small toys also make great gifts (and can be traded too!).
The tiny desk figures sit on the edges of your desk, with unique designs that represent each character. Since this product was a recent release in 2021, Re-ment may releae more Hunter x Hunter figures in the future.
Available characters include:
Killua Zoldyck
Gon Freecss
Kurapika
Leorio
Hisoka Morow
Machi Komacine
G.E.M. Series Killua
Average Price: $40-$50
This Killua Zoldyck GEM series figure is one of the most affordable and detailed Killua figures!
Gon Freecss Banpresto Vol. 1 Figure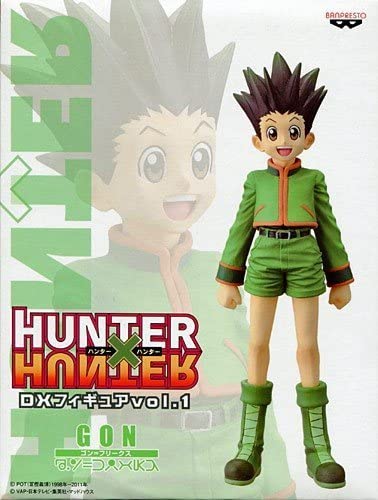 Average Price: $80-$100
The Gon Freecss Banpresto Vol. 1 figure is a relatively expensive figure that is great for displaying on your shelf. Aside from the base, the figure does not come with any additional attachments.
Kurapika Banpresto DX Figure Vol. 5
Average Price: $100-$130
No one will forget the first time we saw Kurapika's scarlet eyes. That's why Kurapika fans must buy the Banpresto Kurapika Vol. 5 figure, which takes you back to Trick Tower when we first learned about Kurapika's chilling skills.
People adore this figure because of its realism and affordability. Compared to other Kurapika figures, which can go for $300-$400, the sub $150 price range is considered cheap!
Banpresto Illumi DX Figure Vol. 4
Average Price: $110-$140
Remember the iconic and hypnotic scene between Killua and Illumi from the end of the Hunter Exam arc? You know, the one where Illumi hypnotizes Killua and convinces him he can't have friends? Yeah, Banpresto does too! With this pose, you can capture this moment forever and keep it on your shelf.
Compared to other Illumi figures, this is a great pickup to kickstart a collection for Illumi fans.
Hunter x Hunter Figma Figures
Price Range: $220+ each
The Hunter x Hunter Figma figures are not affordable, but they are very realistic. After you get your collection started, you can explore the different Good Smile figures. These figures are perfect for playing or displaying, with several additional attachments and displayable positions.
Available Figma Figures include:
Killua Zoldyck
Gon Freecss
Kurapika
Leorio
Final Thoughts
This guide explores the ten most affordable types of Hunter x Hunter figures. Before purchasing a figure, be realistic with your budget. Some characters will cost much more than others because of their rarity. For instance, Neferpitou and members of the Phantom Troupe (Chrollo Lucilfer, Feitan Portor, Hisoka Morow, Shizuku Murasaku, etc.) are more expensive than other figures.
There is an affordable figure for everyone; from tiny desk figures that can hold your pen to 1/8 scale collector's pieces, there is something for every Hunter x Hunter fan.