Pokemon 25th Anniversary Cards Are Not A Good Investment
On October 8th, 2021, the Pokemon TCG released two new sets to commemorate it's 25th anniversary. As part of the Sword & Shield series, Pokemon Celebrations and Celebrations Classic Collection introduce 25 new cards and 25 reprints of fan favorites from over the years, ranging from the original 1999 Base Set to Guardians Rising. Oh, and if you didn't catch this fun little detail, each set only has 25 cards in honor of the 25th anniversary.
So far, this set has been extra-hype for all Pokemon fans, and it's easy to see why. First off, the cards are absolutely beautiful; stunning additions to display in any home. Second, fans can now experience the wave of excitement from pulling an original Charizard, Blastoise, and Venusaur from a pack, without having to spend hundreds to thousands of dollars on sealed 1999 Base Set products.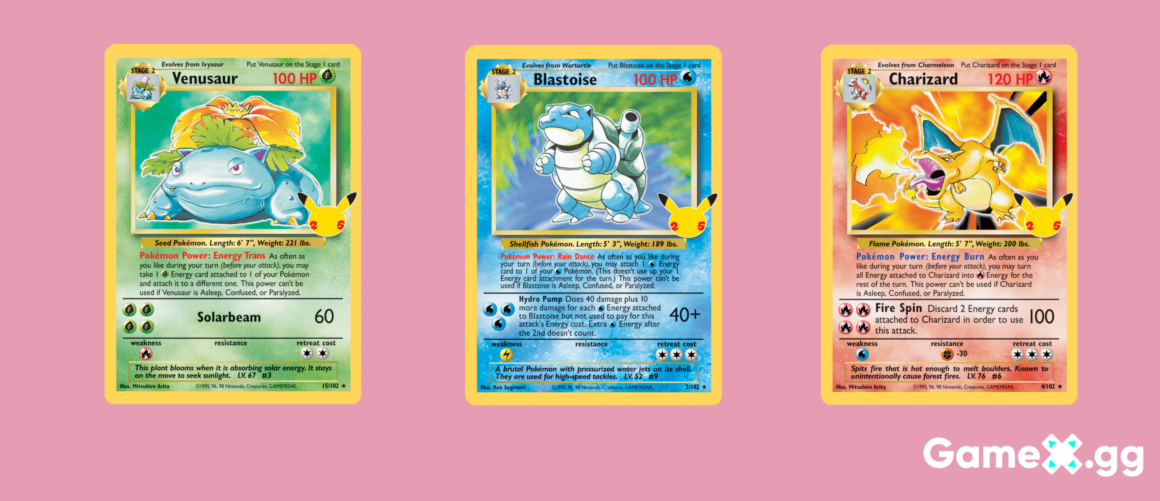 Most Valuable Pokemon 25th Anniversary Cards
The most sought after cards in the Pokemon Celebrations Classic Collection (in order of value):
Charizard 4/102 – Holofoil
Umbreon Gold Star 17/17 – Holofoil
Shining Magikarp 66/64 – Holofoil
There is only one money card in the Pokemon Celebrations set: Mew 025/025 – Secret Rare.
If you want to pick up this set to get that surge of euphoric nostalgia or for personal use then by all means, go for it! But if you're looking to invest in this set by holding onto cards or sealed product long-term or by getting these Pokemon cards graded, then think again.
Why Is This A Bad Investment?
You may have noticed the usual chaos surrounding Pokemon TCG releases with this set; big retailers selling out, smaller retailers drastically marking up MSRP, and scalpers flooding the secondary market. But, let us assure you, the long-term value of this set will be as bad as Battle Styles.
In this article, we are specifically referring to the following Pokemon Celebrations products:
Singles (graded and raw)
Packs and Booster Boxes
Celebrations Mini Tin
Celebrations Premium Figure Collection [Pikachu VMAX]
Celebrations Collector Chest
Celebrations Elite Trainer Box
Celebrations Special Collection – Pikachu V-UNION
Celebrations Collection – Dragapult Prime
Celebrations Collection – Lance's Charizard V
Celebrations Collection – Dark Sylveon V
Please visit our article on Pokemon Celebrations Ultra Premium Collection for specific reviews about that product.
Pokemon Celebrations 2nd Wave (and beyond)
Like the Pokemon Evolutions & Generations 20th anniversary sets, Celebrations will be released in several waves. Given that this set marks Pokemon's 25th anniversary, it will likely be overprinted in the upcoming waves, creating an overabundance of cards in the secondary market (once all the streamers finish cracking open packs). In fact, according to several people from the Pokemon TCG subreddit, many major retailers across the U.S. are already seeing large restocks of the product. The 2nd wave will officially arrive during the 2021 holiday season, with additional waves landing in early 2022.
The Print Quality Is Quite Good
This may seem like an odd reason, but it's particularly important if you plan to grade your Pokemon cards. Some people are trying to do an apples to apples comparison of the Celebrations Charizard and the Evolutions Charizard, but this is incorrect.
A PSA 10 Charizard from Evolutions fetches a high price tag of $3000 today. This is only because the set had terrible print quality with only 315 PSA 10's in existence. However, there are almost 10,000 PSA 9 grades of this card, which means that the PSA 10 grades would also be in the several thousands if this set had a better print quality. A more apt comparison would be to the Champion's Path Shiny Charizard V, which has over 6000 PSA 10 grades and has realized a sharp decline in value since release.
Final Thoughts
All in all, we're very excited for this set and will probably pick up a few cards for our own personal collections. But if you're looking for an investment, know that more waves of the product are coming and expect thousands of perfect grade Charizard's to flood the secondary market in 2022.