Unlike modern Nintendo consoles, only a handful of Pokemon games were released for the Nintendo Gamecube. In terms of gameplay, these Pokemon Gamecube games are nothing to write home about; most have an average score of 7/10 and are outshined by Pokemon games on other platforms. But still, these are some of the most valuable and sought after Pokemon games ever made!
Below is a complete list of every NTSC Pokemon game for the Gamecube. We've also included the complete in box (CIB) market price and have ranked each game from least to most valuable.
#7
Pokemon Channel
CIB Price: $50
This game is a guilty pleasure for us, but it's one of the worst Pokemon games ever made. Pokemon Channel was released on December 2003 and is the sequel to Hey You Pikachu (N64). Players surf through TV channels created by Professor Oak and interact with different Pokemon shows; from shopping and Psyduck's news flash, to episodes of the anime series Pichu Bros. This game originally came with 3 E-Reader cards, and CIB copies with them sell for $100+.
#6
Pokemon Colosseum
CIB Price: $115-$130
This game was a huge success – it sold 1.5M copies in the US and has the highest gameplay review of any Pokemon Gamecube game on this list. Like most Pokemon games, this game is turn-based; however, there are no random encounters to catch Pokemon. The primary purpose of the game is to purify shadow Pokemon, which have been corrupted by Team Cipher. With a GBA system and link cable, Pokemon can be traded between the following GBA Pokemon games: Ruby, Sapphire, FireRed, LeafGreen, and Emerald. There is a Player's Choice variant of this game, but there's no meaningful difference in price from the original, black label version.
#5
Pokemon Colosseum (Not For Resale)
CIB Price: $150
If you've collected Nintendo games, then you know there are a few with Not For Resale stamps on the label. There are several reasons games get this label – they came in a prepacked bundle, they were given to retail stores for demo purposes, or they were exclusive promo items from pre-ordering or Club Nintendo. There are collector's who specifically hunt for the Not For Resale stamp on Nintendo games, making this variant a little more valuable.
#4
Pokemon XD: Gale of Darkness
CIB Price: $150-$175
This game is the sequel to Pokemon Colosseum and was even bundled with an awesome limited edition Gamecube system! The focus of this game is to capture and purify shadow Pokemon (yes, just like the last game). The biggest change in this sequel is the introduction of shadow moves for Shadow Pokemon, which unfortunately, wasn't enough to make this game a success. The overall reception was a bit worse than its predecessor, with reviews hovering around 6/10. Still a much better game than Pokemon Channel though!
#3
Pokemon Colosseum Bonus Disc
CIB Price: $150-$175
The Pokemon Colosseum Bonus Disc was an exclusive promo for fans who pre-ordered the Pokemon Colosseum game. The bonus disc contains previews of the 6th Pokemon film – Jirachi Wish Maker – but this isn't why people chased after this product. With a GBA system and link cable, players can exclusively download Jirachi to their copy of Pokemon Ruby or Sapphire and use the powerful legendary Pokemon in-game.
#2
Pokemon Colosseum (Pre-Order)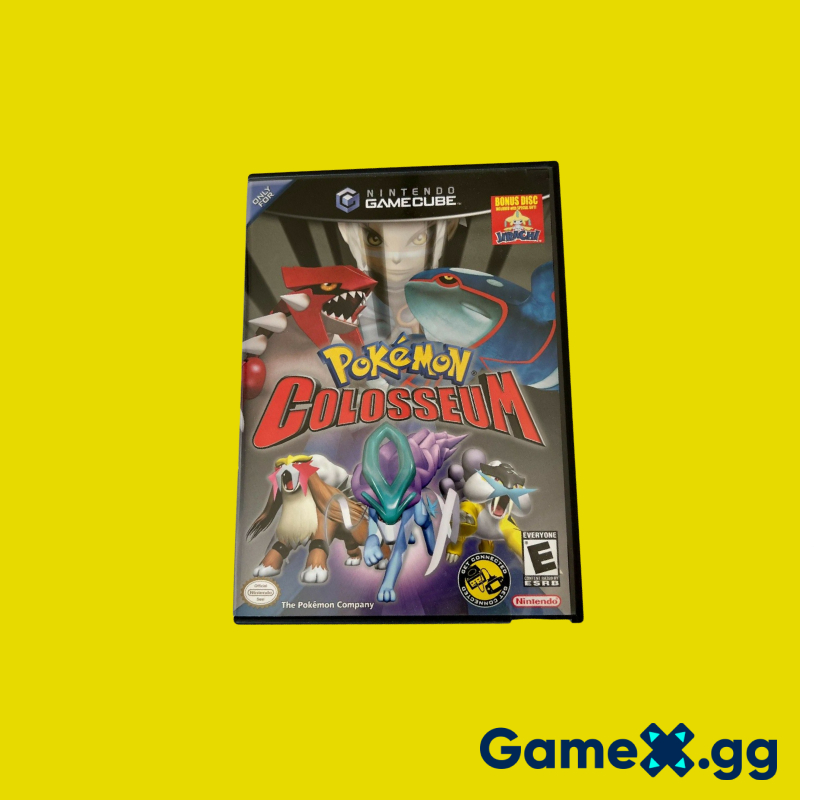 CIB Price: $400-$500
This is the rarest variant, which includes both the Pokemon Colosseum game and Bonus Disc. There's a Not For Resale stamp on the back cover and a red Jirachi logo on the top right corner of the front cover.
#1
Pokemon Box Ruby & Sapphire
CIB: $1300-$1600
CIB With All Accessories: $2000
This is by far the most valuable Pokemon Gamecube game. In fact, this is one of the most valuable Pokemon video game products ever made! This game was released on July 2004 and exclusively to the Pokemon Center store in New York City. Players can use this to store up to 1500 Pokemon from Ruby, Sapphire, Emerald, FireRed, and LeafGreen.
Accessories include:
Ruby & Sapphire colored memory card
GBA to Gamecube Link Cable
The game originally sold with an outer cardboard box. A CIB copy with all accessories and the outer cardboard box can easily fetch over $3000.